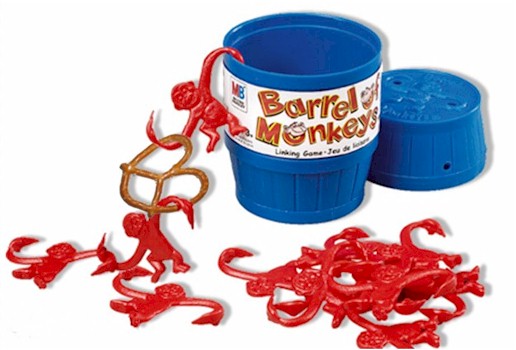 In middle school, Parker Phinney '12 began collecting the plastic monkeys from Barrel of Monkeys toys. Now, Phinney and the Hacker Club will attempt to make world's longest chain of plastic red monkeys. The event is raising money Child's Play, an organization that donates toys to children in hospitals. Phinney said he has an ambitious fundraising goal — $1 for each monkey, or a total of $5,000. Playing with toys to raise money for toys — it's nice to know that being a Dartmouth student doesn't kill your childhood spirit.
"It all started in middle school when some friends and I started collecting the plastic monkeys," Phinney said. "Eventually we had enough to reach the ground from the balcony of our middle school building, which was three stories tall."
Phinney said he wanted to set a Guinness World Record, so he contacted the Guinness Book of World Records and Hasbro.
"Hasbro donated a metric buttload of monkeys, and Guinness sent along a bunch of guidelines and contracts for witnesses to sign," Phinney said. "At the time, the rules said that the chain had to be completely vertical, so we looked all around Los Angeles for the perfect venue with a large, indoor vertical space — office buildings with large atria, lighthouses, even missile silos."
After doing some physics and experimenting with dumbbells to test how much weight each monkey could hold in the chain — an impressive feat for a middle school kid — he figured out that the monkeys needed to be hung from multiple points in order to hold all the weight. He called this a "garland method." But Phinney's project "fizzled out" in middle school when he failed to find a suitable venue for his endeavor.
Phinney revisited the project last summer when he was working in northern California.
"I made my dad ship the monkeys up to my office in San Bruno, California," he said.
After getting the garland method approved by Guinness, Phinney found a venue at Dartmouth, support from local companies and friends, a few ladders and now, its "all systems go."
The Australian group that currently holds the world record built a chain of 3,500 monkeys, but Phinney has 6,000 monkeys — he plans to "blow them out of the water," or rather, fling them off the chain, he said.
Phinney's middle school dreams will come true on Sunday at noon. The record-setting chain will be assembled at the Top of the Hop. Support him by donating at www.themonkeychain.com to help him reach his goal.
Katherine Armstrong '14 has her nose to the ground for breaking news on campus. She loves everything purple, except purple grapes, and can be seen wearing one of two backpacks around campus — both of which she designed.