The newly renovated Reserve room is home to Jose Clemente Orozco's mural, "The Epic of American Civilization," which is one of only three works Orozco completed in the U.S. Known for their awe-inspiring, profoundly somber depiction of the human condition, the frescoes are considered among the artist's most pivotal.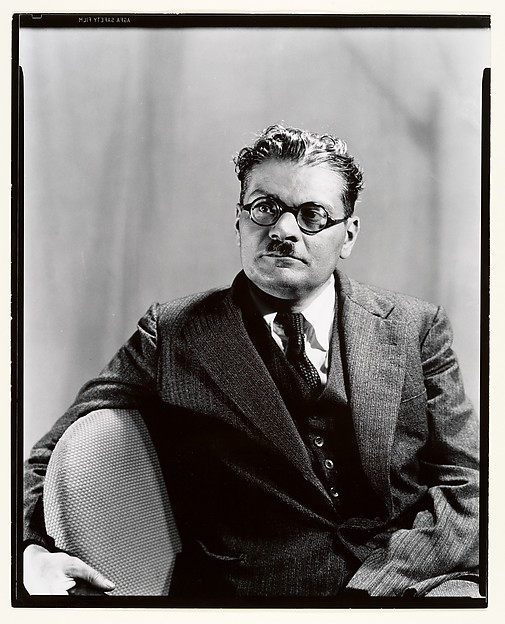 Courtesy of © Berenice Abbott / Commerce Graphics Ltd. Inc.
The story of how Orozco, a revolutionary Mexican artist celebrated for his complex depictions of social justice, came to paint his epic mural in the library of a small college in New Hampshire, originally chartered to Christianize Native Americans, is one marked by passion and persistence.
From 1932 to 1934, Orozco painted the murals while serving as Dartmouth's second artist-in-residence.  Covering 3,200 square feet, the mural is composed of 24 individual panels and spans the history of American civilization from Aztec migration into central Mexico to the development of current modern industrial society.
The names of the frescoes he contributed include: "Migrations," "Human Sacrifices," "The Appearance of Quetzalcoatl," "Corn Culture," "Anglo-America," "Hispano-America," "Science" and a version of "Christ Destroys His Cross."
In 1929, Carpenter Hall had just been completed, and art history department chairman Artemas S. Packard worked with faculty member Churchill P. Lathrop to bring a Mexican muralist to campus. Hoping to bring Orozco, the two held exhibitions of the artist's work in Carpenter Hall galleries. Aided by the support of Nelson Rockefeller '30 and Orozco's New York agent, Alma Reed, Packard and Lathrop eventually secured Orozco's commission.
At the time, Orozco was creating a mural at the New School for Social Science Research in Manhattan, but expressed interest in coming to Dartmouth. While in New York, his work centered around the themes of the "Mexican Revolution and the mechanization and dehumanization of life in a great metropolis."  In a Feb. 20, 1931 letter to Packard, Reed wrote that Orozco's plans for the Dartmouth mural was to take "great traditional themes, such as the Prometheus, and giv[e] them a meaning for today." Indeed, Orozco was so interested in coming he agreed to come at his own expense.
In a May 1932 letter, Orozco described his switch from a Greek mythologized mural to one more specific to America:
"The American continental races are now becoming aware of their own personality, as it emerges from two cultural currents—the indigenous and the European. The great American myth of Quetzalcoatl is a living one embracing both elements and pointing clearly, by its prophetic nature, to the responsibility shared equally by the two Americas of creating here an authentic New World civilization. I feel that this subject has a special significance for an institution such as Dartmouth College which has its origin in a continental rather than in a local outlook—the foundation of Dartmouth, I understand, predating the foundation of the United States.
The public is free to view the mural during normal hours of the Orozco Room. Audio guides are always available, featuring commentary from Professor Mary Coffey of the Art History department and Professor John Watanabe of the Anthropology department.
The renovations were celebrated on Oct. 5 at the Hood Museum of Art during a lecture by Wellesley College Latin American art scholar Jay Oles deemed "Mexican Pyramids on American Walls: Revivals, Restorations, Reinventions." The lecture discussed a variety of mural works created in the 1930s, highlighting Orozco's frescoes and the unique way he depicted pre-Hispanic and post-conquest civilizations.
– Listen to a question-and-answer session
– Take a tour with Assistant Professor Mary Coffey of the Art History Department, Dartmouth College. Professor Coffey is a specialist in Latin American art.
Tags:
Alexandra Johnson
,
Carpenter Hall
,
murlas
,
Orozco
,
Rockefeller