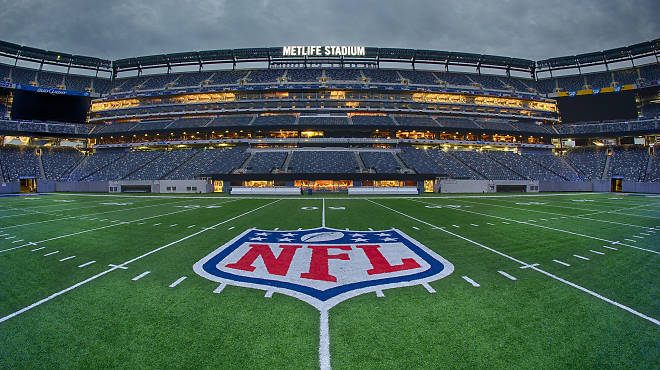 To be honest, I have no idea why I thought I was qualified to write anything about the Super Bowl. I know nothing about the teams playing (for those still unsure of the names, this year it's the Denver Broncos versus the Seattle Seahawks), nor do I really understand the rules of football. But I still usually watch some of the game every year, so here are my Super Bowl tips for those who feel the same way I do.
FOOD!
Super Bowl parties provide the perfect opportunity to consume all the unhealthy finger food you've been craving. So indulge in the hearty (and probably fried) selections!
If you have a lot of friends, or are feeling particularly hungry, I recommend that you try your hand at making your own Super Bowl Snackadium à la Buzzfeed. Make sure to Instagram it though – it would be sad to devour all of your craftiness without impressing your friends via social media.
The Ads
If you thought you had to wait until the Super Bowl to watch the most entertaining parts (the ads!), think again! This year many companies have released teasers, or even leaked entire commercials, to tantalize viewers. This gives you a chance to preview them so that you can prepare witty commentary to regale your companions with.
My personal favorite so far, for obvious reasons, is the Budweiser "Puppy Love" ad. If you'd rather watch adorable puppies instead of football, I suggest that you sneakily switch the channel to Animal Planet's Puppy Bowl.
The Halftime Show
Last winter I was studying abroad and didn't bother with anything Super Bowl related, but I still managed to watch Beyoncé's entire halftime show: if it's Beyoncé, I find a way. The shows tend to be hit or miss, but at least they provide a necessary break from the game. No guarantees about Bruno Mars this year – he has nowhere near the cachet that Queen Bey does.
Acceptable Sunday Drinking
As a warning, one beer might make you a bit tipsier than usual since you're not used to drinking on a Sunday. Make sure to drink a beer suitably patriotic for watching such an American sport. None of that imported craft beer allowed; this is not supposed to be a hipster or high-class pursuit.
Tight Ends
Comment on who has the best "tight end" (if you catch my drift). See what other football terms you can make into puns or irreverently mock.
Just Give Up on Actually Trying to Follow the Game
"Which color are we rooting for again?" is a question that I have asked way too many times during football games. I have yet to fully learn the rules, and I haven't been interested enough to try to learn. At this point, it's best if I just don't bother commenting on any of the actual plays. Instead, I save my insight for all the other aspects of the event.
Enjoy your Super Bowl Sunday!